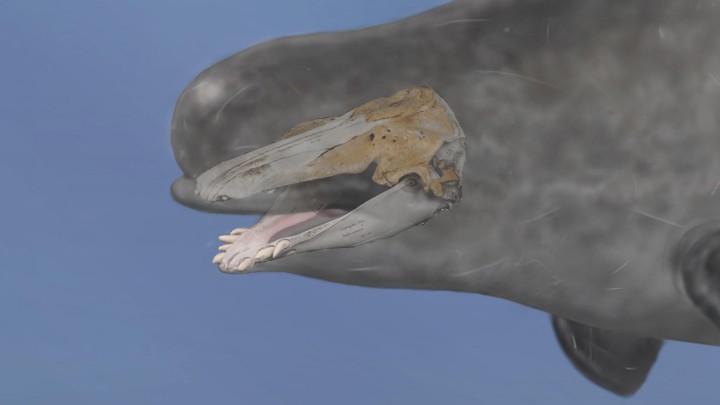 A reconstruction of the narluga (Markus Buhler), from The Atlantic
It's for real. Check it out. From the article:
There's something faintly magical about that. This fluky merger between two species ended up with a mouth that doesn't normally exist in nature but still found a way of using it. It lived neither like a beluga nor a narwhal, but it lived nonetheless.

But there's a dark side to hybridization, especially for the Arctic's endangered residents. If hybrids are infertile, as they often are, they would act as genetic dead ends for already small populations. If they are fertile, the mixed genomes of their offspring could displace those of their respective parents. As the Arctic warms and its ice disappears, some scientists are concerned that once-isolated species could be meeting and mating more frequently, and damaging their own prospects in the process.

Does the narluga "represent an isolated event, or does it signal an increase in hybridization as a consequence of changing climates?" asks Sandra Talbot from the United States Geological Survey. And if it's the latter, does cross-breeding offer a way for narwhals to bolster their relatively low levels of genetic diversity by bringing in genes from their closest relatives, or might it inadvertently doom them?

Modern humans still carry the genes of Neanderthals, Denisovans, and our other ancient relatives, but those groups are all extinct now. If polar bears and narwhals get edged out in a world of pizzlies and narlugas, they could suffer the same fate.